Think back to the first time you ran a combine. Maybe you were just a kid and your dad let you sit on his lap holding the wheel. Whether that was 30 or 50+ years ago, it's a safe bet that the concaves in that combine were either small wire, large wire, or round bar. For the longest time, these were the only concave options, yet combine technology has advanced and crops have been genetically modified to produce higher yields. This performance gap has left many farmers unhappy with the dinosaur concave options.
Our KX7 concaves are delivering a radical improvement over traditional concaves. With its different look and design, some harvesters are unsure of how to best configure the concaves to their crops. While one could safely assume MaxThreshTM assemblies were for threshing and MaxRoundTM for separating, the half-width design and box customization options left some uncertainty. Rest assured, we are here to help, and have a tool to give you confidence in how to best set your combine with our KX7 concaves.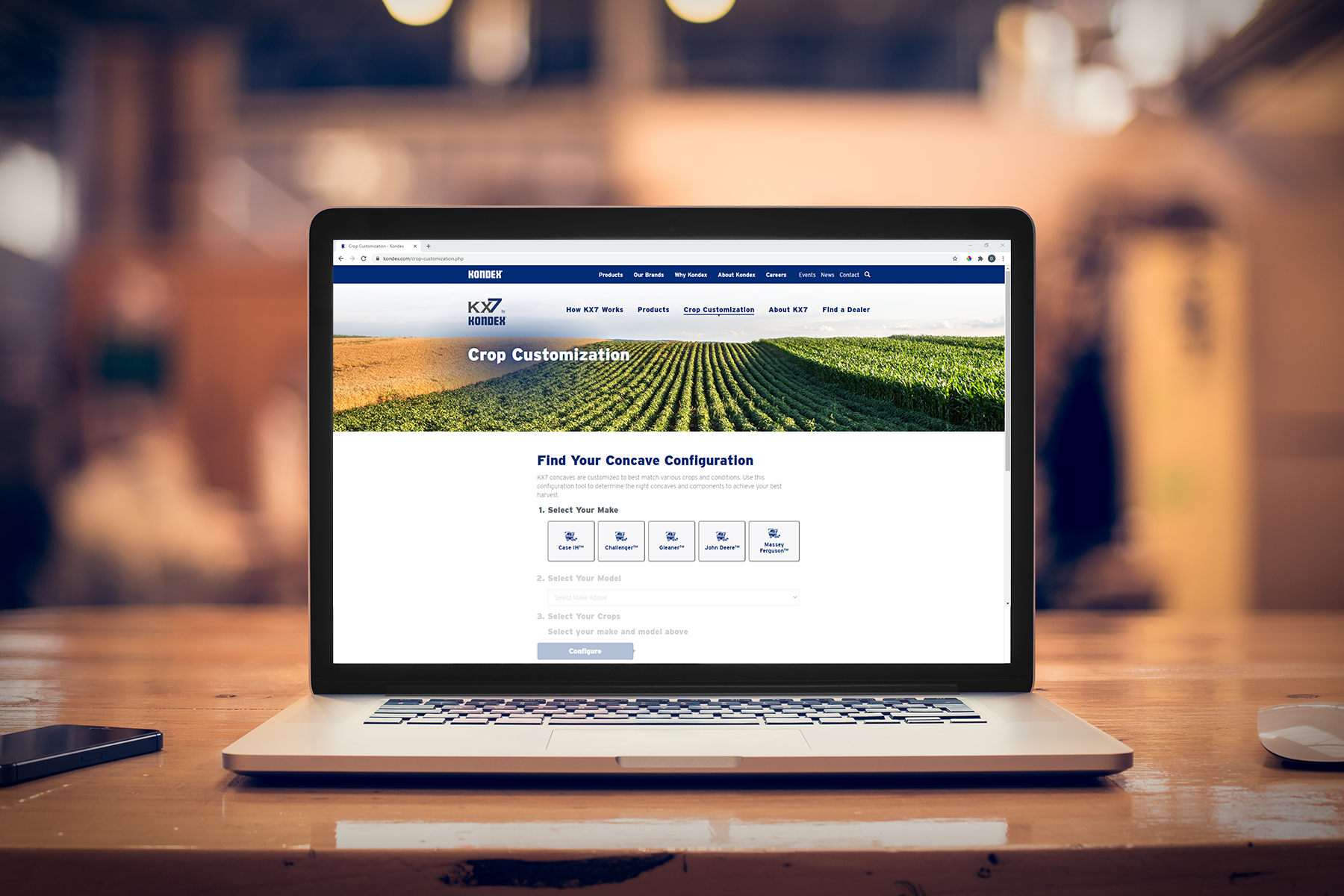 Our Crop Customization tool is the best place to start your KX7 concave journey! After selecting your make and model combine, you'll find a list of various crops. Choose the crops you plan to harvest, then click the 'Configure' button. The resulting page will display the KX7 configuration for each crop (click on each crop tab/button to see changes between crops), as well as a parts list to support all selected crops. The parts list includes a full KX7 kit plus any additional assemblies needed to maximize performance in different crops. Note that the base kit will default to the configuration with the most MaxThresh concaves. A list of the KX7 part numbers and quantities needed for your selections is also included, along with a photo gallery of each component. You may wish to print or share this configuration (see appropriate buttons to do so). The 'Buy Now' button will take you to our dealer locator, as our concaves are only sold through a distribution network. If you're not quite ready to buy, but want to estimate your investment, click the 'Prices' button to request a PDF price sheet be emailed to you.
Farming focuses on family, hard work, and gratitude for a fruitful harvest. At Kondex, we too are a family, and our focus is on driving innovation and products to help feed and fuel the world! That means supporting our farmers. Often times, that goes beyond a phone call. We want to see you succeed. If you need help with concave selections or configurations, or have other questions about our products, please send us a note or give us a call at 920-269-4100 – we'd be happy to help!
Additional resources:
• KX7 Videos
• KX7 News
• KX7 FAQ