After purchasing and installing your new Kondex concaves, we know you'll be excited to start harvesting your crop. Before you head to the field, make sure you've zeroed and leveled your concaves first. This process ensures that the front and back of the concaves have equal gaps between the concave and rotor/threshing elements, and it also resets the clearance calibration.
Reasons to Zero and Level Your Concaves
Prevent interference between the concaves and rotor/threshing elements
Gain predictably consistent concave performance
Minimize grain damage

Zeroing and leveling your concaves is especially important when changing concaves to avoid interference between the new concaves and the threshing elements. This could be caused by concave misalignment if the concave mounting bar was removed during the concave installation. Your new concaves may also sit higher than the old concaves that were removed as they haven't endured any material wear loss. In addition, as threshing elements wear over time – often with front elements taking on more wear than the back – this too impacts the level and zero settings of your concaves. As depicted in the diagrams below, a gap widening toward the back of the rotor can reduce your threshing capacity leading to unthreshed grain. A wider gap at the front of the rotor can lead to damaged grain.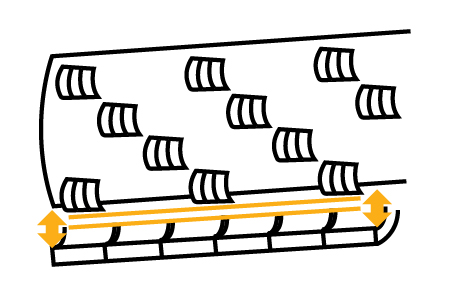 A properly zeroed and leveled concave has equal gap spacing between the concaves and rotor/threshing elements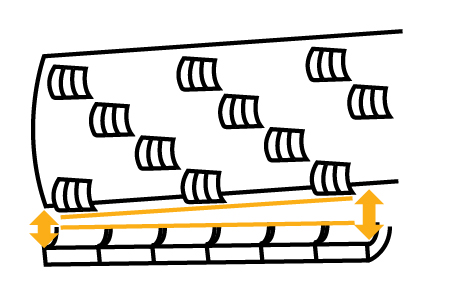 A widening gap from the front to the back concaves and rotor/threshing elements can result in unthreshed grain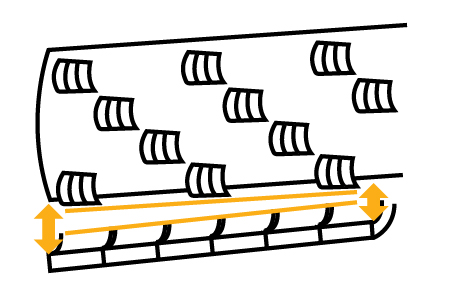 A widening gap from the back to the front concaves and rotor/threshing elements can result in damaged grain
How to Zero and Level Concaves
The process for zeroing and leveling concaves varies by combine make and model. Refer to your owner's manual for step-by-step instructions. If your combine has an angled rotor, you should be measuring the gap between the concaves and the threshing elements. For flat rotors, measuring to the rotor skin may be acceptable; however, keep in mind that there may be uneven wear on the threshing elements to account for. When zeroing and leveling, you may need to remove the separator grates to allow for spinning the rotor. Again, refer to your combine manual for detailed instructions on how to zero and level your concaves.
If you have questions about concave performance or how Kondex concaves can improve your harvest results, click the Contact Us button below or simply email KX7@kondex.com.