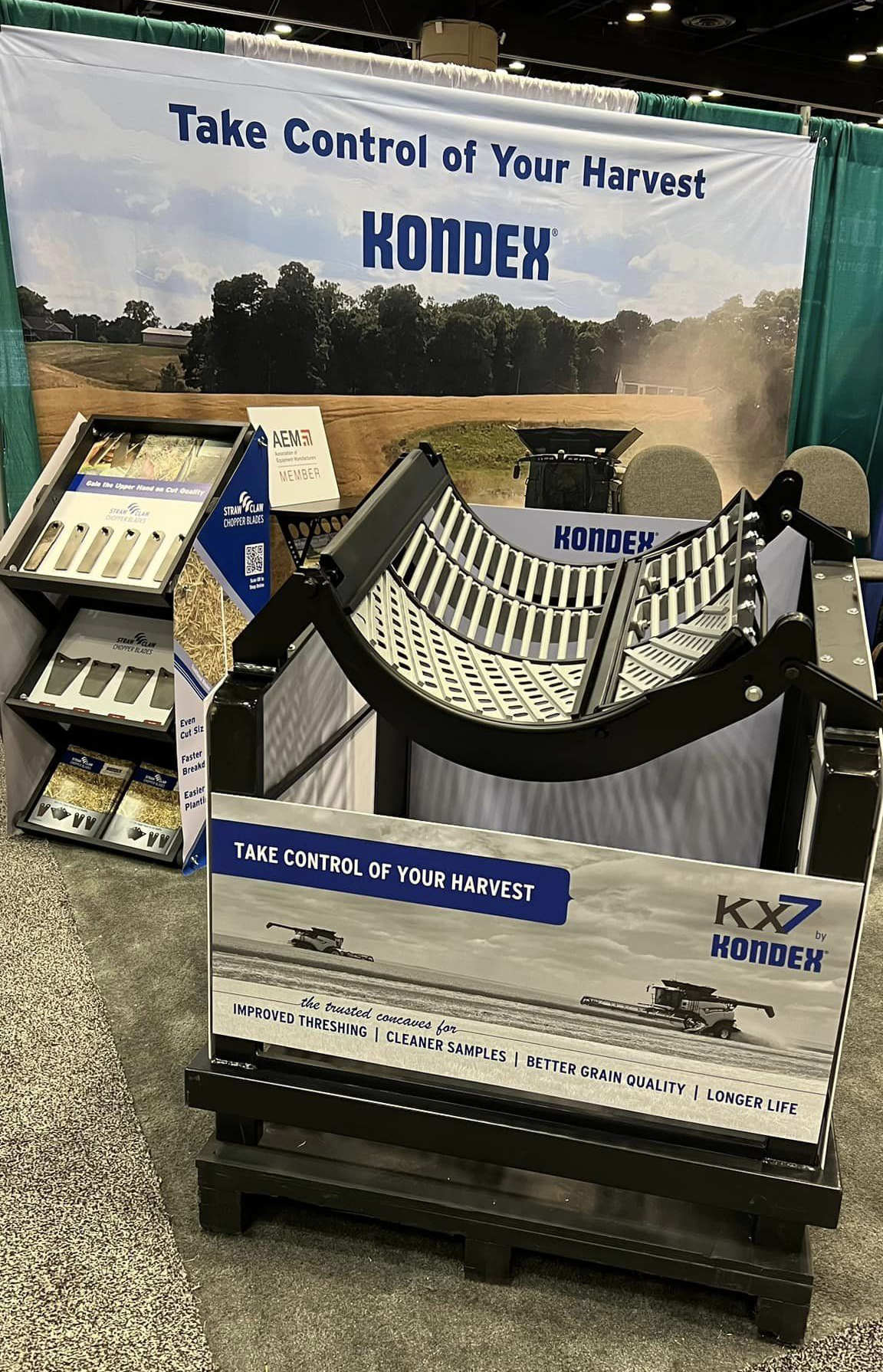 At the 2023 Commodity Classic show, Kondex announced the expansion of our KX7 concave product family to include 22" rotor New Holland CR combines. Farmers with New Holland machines can now experience the improved threshing and separation KX7 delivers, as well as a much easier installation! Say goodbye to heavy concaves (traditional concaves for New Holland's dual rotor design weigh in at a whopping 125 or more pounds!), and say hello to a simple, two-bolt box replacement with boxes weighing under 16 pounds! A job that took at least two people previously can now be done by one individual in a short amount of time.
As with other KX7 concaves, our modular system includes replaceable box inserts consisting of our MaxThreshTM and MaxRoundTM designs. Both box inserts have an angled, helical design to meet the crop head-on. MaxThresh provides more immediate threshing that increases capacity, while MaxRound balances separation. With KX7, you're able to raise your concave clearance, reduce wear to your rotor, and gain more flexibility in finetuning settings to your unique crops and conditions.
KX7 Benefits:
More grain-on-grain threshing
Little to no rotor loss (average losses are less than 0.5%)
Decreased plugging
More productivity
Greater capacity
Better adaptability in mixed-moisture fields
Improved grain quality and samples

(Above): Standard KX7 configurations for New Holland combines can be customized to unique crop and field conditions by swapping MaxThresh and MaxRound box inserts as more or less threshing is needed
Compatible Models:
KX7 fits New Holland 22" Rotor CR Series combines, including CR8.90, CR9.90, CR10.90, CR970, CR980, CR990, CR8090, CR9070, CR9080, and CR9090.