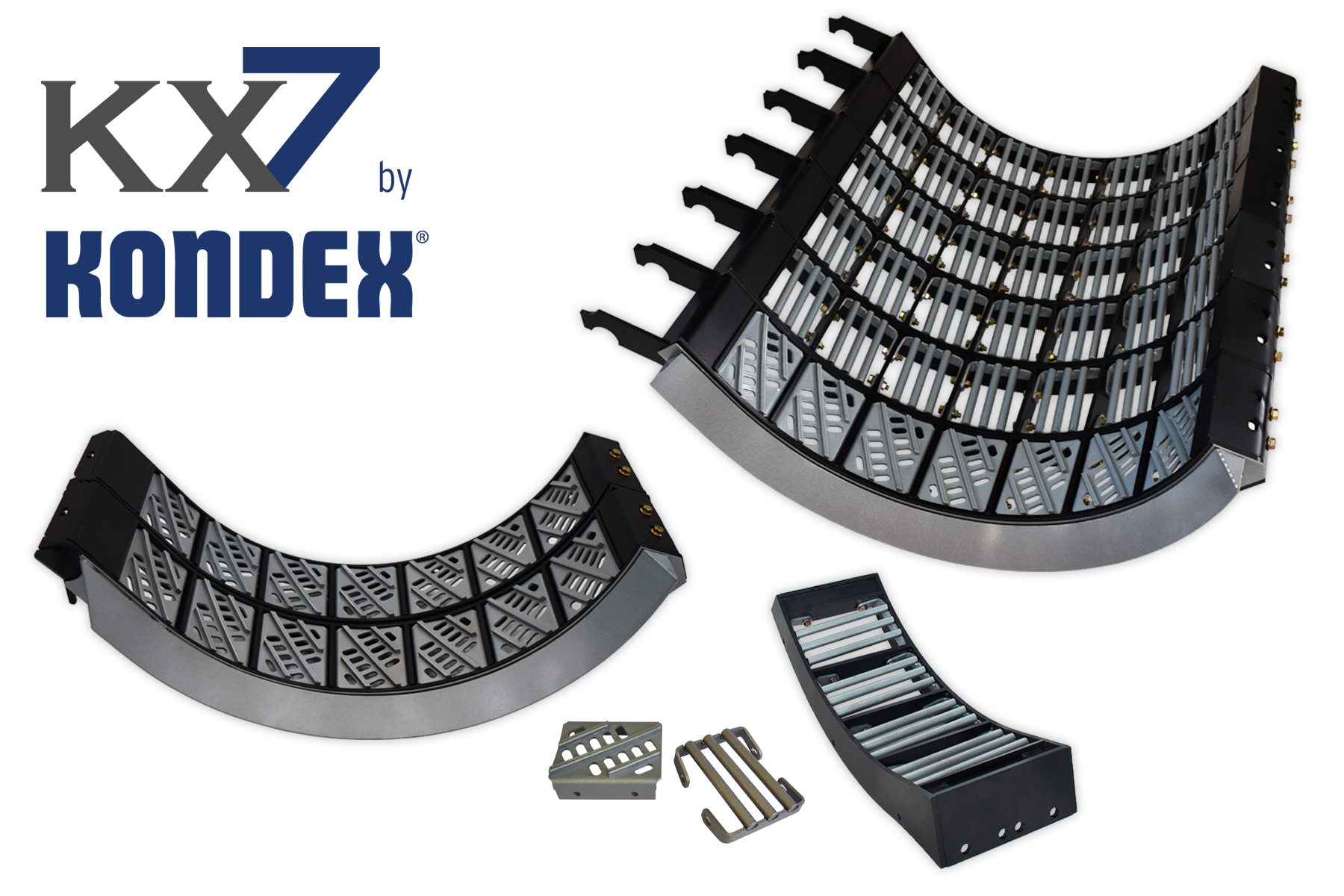 At first glance, you can see that KX7 concaves are different. Their size and design are unique, but these are just the beginning in what sets KX7 apart and contributes to its incredible performance. Let's dig deeper into what KX7 has to offer.
First, the intent of the KX7 design is to get the grain threshed out as soon as possible. That is why we have the MaxThreshTM and MaxRoundTM boxes. MaxThresh is designed to start threshing the crop as soon as it enters the concave, and then MaxRound is designed to improve the separation once everything is threshed out. All KX7 assemblies have a helical design, meaning that all of the bars are on an angle. The MaxThresh concaves have a much more aggressive angle than MaxRound because we want to do the threshing right away. The angle of the ribs on the MaxThresh concaves are designed to run perpendicular to the crop flow, causing the crop mat to move up and down over those ribs. Because of the movement this encourages between the concaves and the rotor, we recommend starting at the high end of your owner's manual clearance setting and low end for rotor speed. This provides you with more grain-on-grain threshing, which will improve the quality of threshing and increase your capacity. After your grain is threshed out, our MaxRound concaves are designed to continue that disruption in crop flow through the rotor to improve separation. Typically, we see the KX7 system reduce the amount of time and space needed for threshing and provide more time for improved separation. Because of these two things, you are now able to use more of your cleaning system to improve your grain quality/sample, increase capacity, significantly reduce rotor loss, and usually pick up ground speed.
We typically recommend having at least one row of MaxThresh concaves in the front. To get the full benefit of the system, you would then want our MaxRound concaves behind that. There are multiple configurations available for different crops and conditions. As a general rule of thumb, the smaller the grain you are harvesting, the more MaxThresh you add. With KX7 being half the width of most traditional concaves, you've gained double the configuration options right off the bat. Beyond this, the individual boxes in each frame provide you with even more options to fine tune your concaves for different crops and conditions. Additional advantages to the half-width and box design include a much easier installation and change over between crops. With many configurations including MaxThresh concaves in the front-most position, and MaxRound in the last position, if concave changes are needed between crops it's typically only in the middle - which are easier to access.
Having individual, replaceable, and reversible box inserts is also an advantage. Those with rocky fields know that getting a rock into the rotor can do some serious damage. In the case of KX7, you are likely replacing one or two boxes instead of an entire concave. These boxes are also designed for durability. Our MaxThresh boxes feature a tungsten carbide additive hard facing on the leading edge that is applied with a process called laser cladding. This provides you with a slightly rounded corner that greatly minimizes wear to maintain the threshing edge. In addition, our MaxRound bars are all heat treated. Beyond the performance advantages mentioned earlier, KX7 is also a high-wear concave that will stand up against the most abrasive conditions.
Interested in learning more? Send us an email or call us at 800.447.1860 to discuss your unique crops and conditions.
You can also watch our testimonial videos to see what others are saying about KX7.