Shift Leader John Arndt recently retired from Kondex Corporation after more than 28 years of service. Arndt began his Kondex career in December 1993 working through a temporary agency. By March 1994, he was hired on full-time. His career has been dedicated to overseeing the Company's Sickle Assembly Department and producing cutting components necessary to harvest crops. Arndt became the resident expert on all assembly machinery and has helped to grow and advance the department.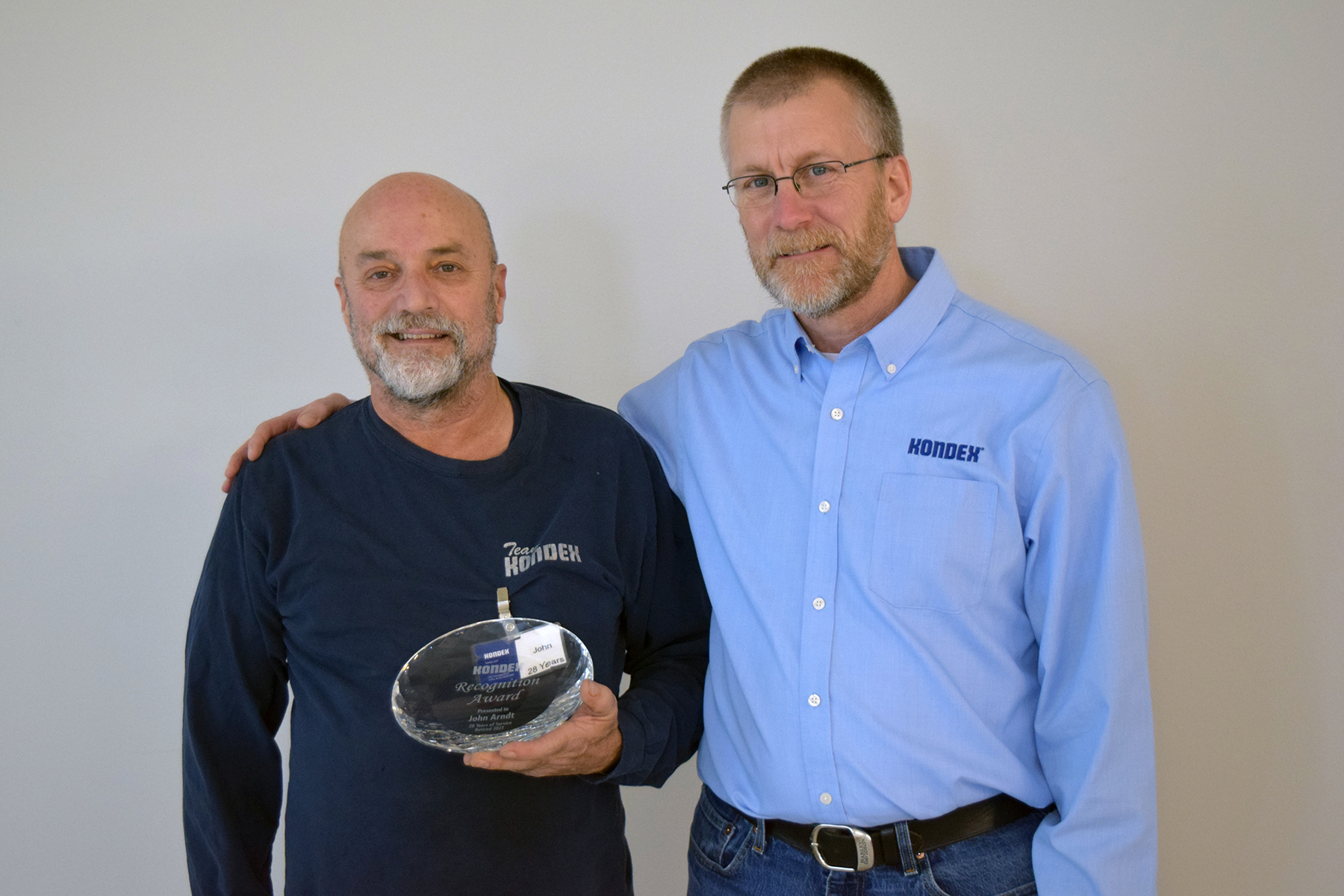 John holds his retirement celebration plaque and is
congratulated by Kondex President Keith Johnson
"John learned and led the Sickle Assembly Department processes from the ground up. As a consequence, he is not only an outstanding trainer and a great mentor to hundreds of associates over the years, but is also the recognized expert in all things sickles with a thorough knowledge of part numbers, customer requirements, print specifications, you name it," commented VP of Manufacturing Brian Bloczynski. "John embodies the spirit of 'Team Kondex;' he's dedicated, hard-working, team-oriented, and has a can-do attitude. John will be sorely missed, but I wish him luck in his well-deserved retirement."
Arndt is looking forward to traveling and having more time for his many hobbies in retirement. He enjoys gardening and is anxious to return to woodworking and yard art.
"It has been a pleasure working with John," commented Manufacturing Team Leader Pat Guercy. "Having someone like John as a coworker has been no less than a gift that just keeps giving. His presence will be missed. Retirement is the world's longest coffee break and I hope he enjoys it."
(Below): Family and coworkers gathered on January 20, 2023, to
congratulate John on his retirement and celebrate his Kondex career