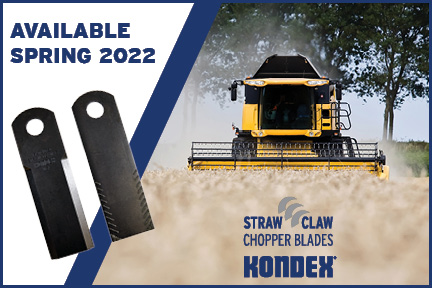 Kondex is expanding its Straw Claw® chopper blade product line to include knives compatible with New Holland CR and CX Series combines. These blades will include the Company's patented laser cladding enhancement that controls how the product wears to induce a self-serrating pattern. As a result, the knives stay sharp longer, have less risk of breakage, better maintain rotor balance, and significantly outlast traditional blades. The stay-sharp design also delivers more consistent cut quality and even residue size and distribution.
"We're adding the New Holland Straw Claw blade in response to increased requests for a compatible premium chopper blade," said Kondex Aftermarket Account Manager Jake Gross. "Much of these requests came from the wheat belt – from Oklahoma to Western Canada – where no-till and strip-till practices are common to wheat and small grain harvesting. The improved residue management Straw Claw delivers is advantageous for these operations. Straw Claw also excels in the eastern Great Lakes region where it's common to double-crop soybeans directly after wheat harvest."
The New Holland Straw Claw blades will be available in Spring 2022 and will be sold in packs of eight. Straw Claw is also available for Case IH, Claas, Gleaner, John Deere, and Massey Ferguson combines. Learn more using the links below.