Kondex has earned recognition as a Partner-level supplier for 2017 and was also named Enterprise Supply Management Supplier of the Year in the John Deere Achieving Excellence Program. The Partner-level status is Deere & Company's highest supplier rating. The Lomira-based company was selected for this honor in recognition of its dedication to providing products and service of outstanding quality as well as its commitment to continuous improvement. Company employees accepted the recognition during formal ceremonies held on April 17, 2018 in Bettendorf, Iowa.
"Our partnership with John Deere has grown significantly since the first sickle sections we manufactured for them in 1978," commented Kondex President Jim Wessing. "Being recognized as an Enterprise-level Supplier of the Year is a tremendous honor that was only possible through a collaborative and value-driven approach from our entire organization."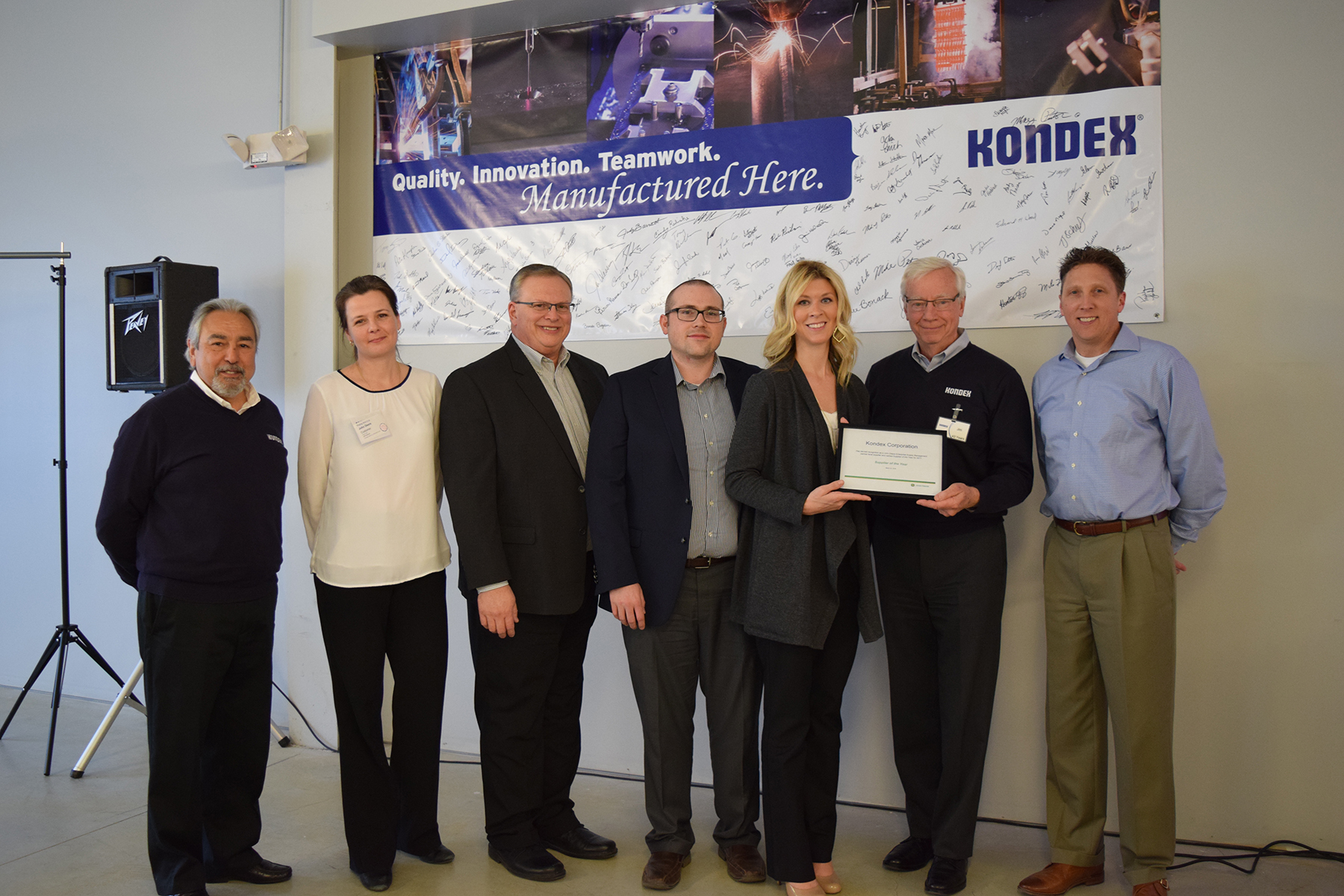 John Deere representatives visited Kondex in March to celebrate their achievement and present a Supplier of the Year recognition certificate prior to the awards ceremony. Pictured are (L to R) Kondex Account Manager Juan Sotelo, John Deere Supply Chain Integration Polina Aronova, John Deere Global Commodity Manager Kevin Resch, John Deere Supply Management Specialist Joe Snook, John Deere Supply Base Manager Breanna Rath, Kondex President Jim Wessing, and Kondex Account Manager Jeff Kotnick.
Kondex is a supplier of agricultural cutting and harvesting components to John Deere's Harvester Works and Ottumwa Works operations as well as lawn and turf aerators and blades to Deere's Horicon Works facility. The Company manufactures and supplies its products for both new production and service equipment.
Suppliers who participate in the Achieving Excellence program are evaluated annually in several key performance categories, including quality, cost management, delivery, technical support and wavelength, which is a measure of responsiveness. John Deere Supply Management created the program in 1991 to provide a supplier evaluation and feedback process that promotes continuous improvement.