Annually, Kondex proudly awards five $400 scholarships to graduating Seniors of Lomira High School (LHS). The recipients are chosen based on their academics, future field of study, career goals, as well as participation in extracurricular clubs such as 4-H, Future Farmers of America (FFA), Future Business Leaders of America (FBLA), and National Honor Society.
The 2023 recipients include Emma Doyle, Aidan Keiler, Oscar Lopez, Talan Luedtke, and Isaac Wolf. Emma is planning to attend UW-Oshkosh to pursue Marketing. Throughout high school, she was active in the student council and FBLA. As future students of UW-Platteville, Aidan and Oscar will be pursuing Mechanical Engineering degrees. Both students were part of FBLA and National Honor Society at LHS. Talan and Isaac intend to pursue degrees in Mechanical Engineering at MSOE and were both involved in Project G.R.I.L.L. (Growing Readiness in Learning and Leading) during their high school career.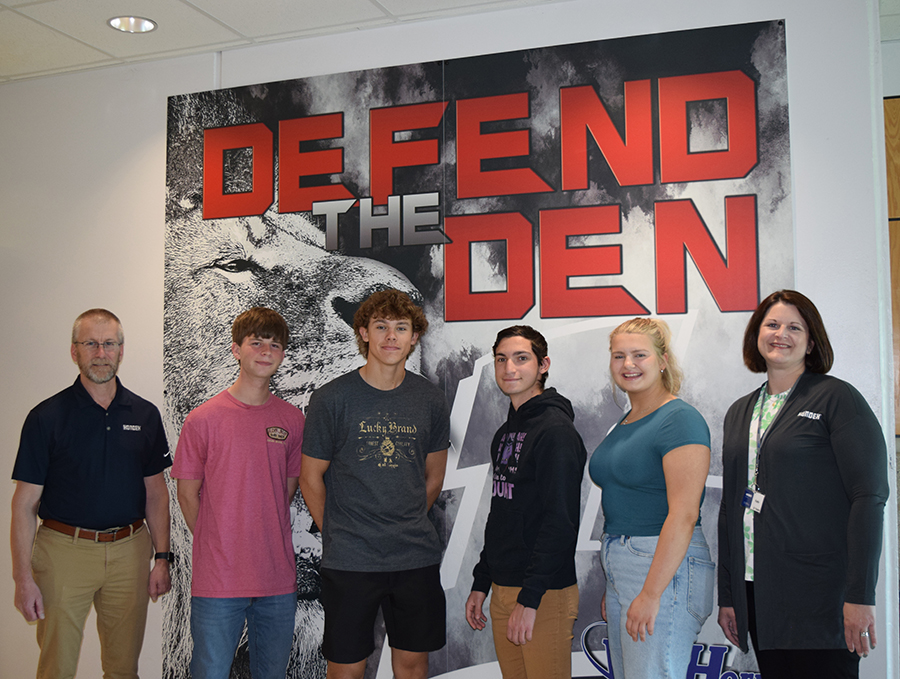 Kondex President Keith Johnson (left) and Organizational Development Leader Kelly Peterson (right) congratulate the 2023 Lomira High School scholarship recipients (L to R) Aidan Keiler, Talan Luedtke, Oscar Lopez, and Emma Doyle (Isaac Wolf not pictured)
Kondex Organizational Development Leader Kelly Peterson had this to say about the recipients, "This year's scholarship recipients have bright futures ahead of them! I was impressed to learn how each of them spent their four years of high school, pouring their hearts into academics, clubs, sports, and community service. I look forward to seeing what the next chapter brings for these five outstanding graduates."
Congratulations and best of luck to the entire Senior class!