Kondex recently welcomed Milwaukee School of Engineering (MSOE) President Dr. John Walz to its facility. This visit allowed Dr. Walz the opportunity to learn more about manufacturing operations and how to best apply their educational tracks to what manufacturers seek from graduates. The day started with a presentation overviewing Kondex products and processes. Dr. Walz then witnessed these operations first-hand with a tour of the plant. The day concluded with Kondex's five MSOE alumni meeting with Dr. Walz to share their roles and responsibilities at Kondex.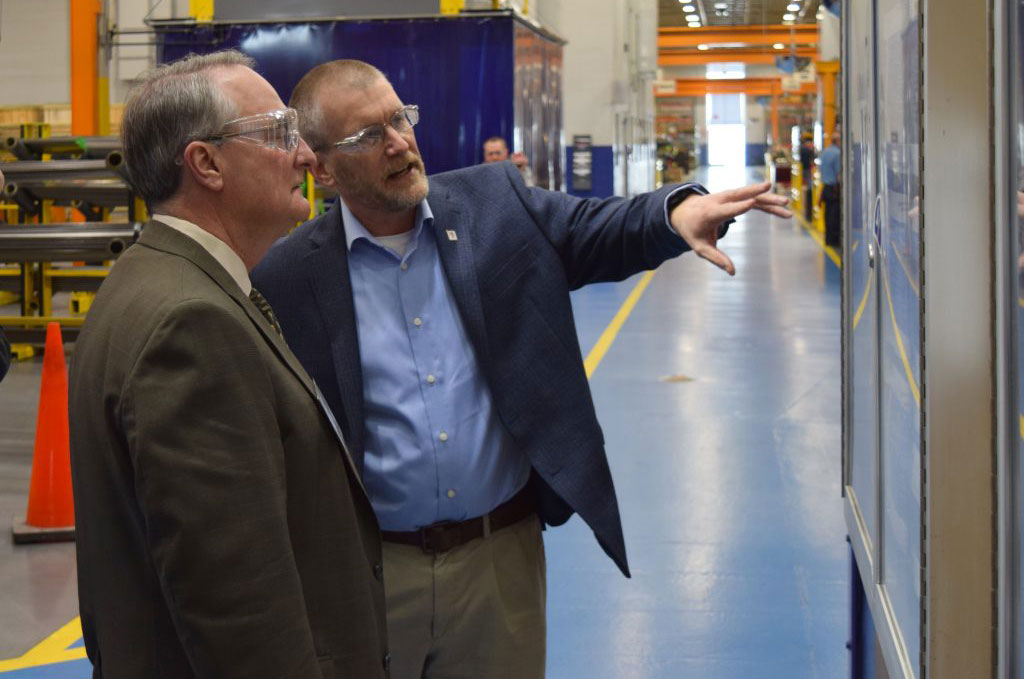 Kondex President Keith Johnson explains production metrics to MSOE President Dr. John Walz.
MSOE has gained several accolades. U.S. News & World Report recently rated them 8th in their 2020 Top Best Universities in the Midwest, as well as 9th in its Best Undergraduate Engineering Programs in the U.S. ranking. MSOE is also rated a Top College by Forbes magazine, and the school boasts the top spot for Return on Investment in Wisconsin ROI, as calculated by PayScale Inc.
"It is important for Kondex to develop and maintain relationships with top-ranking universities like MSOE," commented Kondex President Keith Johnson. "These partnerships serve as another means to sourcing top talent within our Engineering Department, which in turn allows us to continue developing technical solutions for our customers and the marketplace."
"I very much enjoyed my visit to Kondex. While the operations and the level of technology used at the facility were spectacular, what impressed me most were the people – both their knowledge and their commitment," said Dr. Walz. "Witnessing first-hand the success of our graduates reaffirmed to me the great job we're doing at MSOE in educating and preparing the technical leaders of today and tomorrow."