Kondex Technical Services Team Leader Jesse Pauly recently celebrated 40 years of service with the Company. In this time, he's held several positions. He began his career as a machine operator, where he used a pedestal wire wheel buffer to remove debris from sickle sections following the grinding operation. He later held roles in maintenance and as an interim team leader for knife head manufacturing. Today, he leads the Technical Services Department, which is responsible for keeping the facility and its equipment fully operational.
"Though Jesse can fix virtually anything – from a gear box to a robot and everything in between – his lasting contribution will be to the Kondex culture," said Kondex VP of Manufacturing Brian Bloczynski. "As a long-serving team leader, Jesse has been a mentor and example to hundreds of associates with his can-do attitude, work ethic, and abilities, earning him the respect of the entire Kondex team. Congratulations on 40 years of service, Jesse!"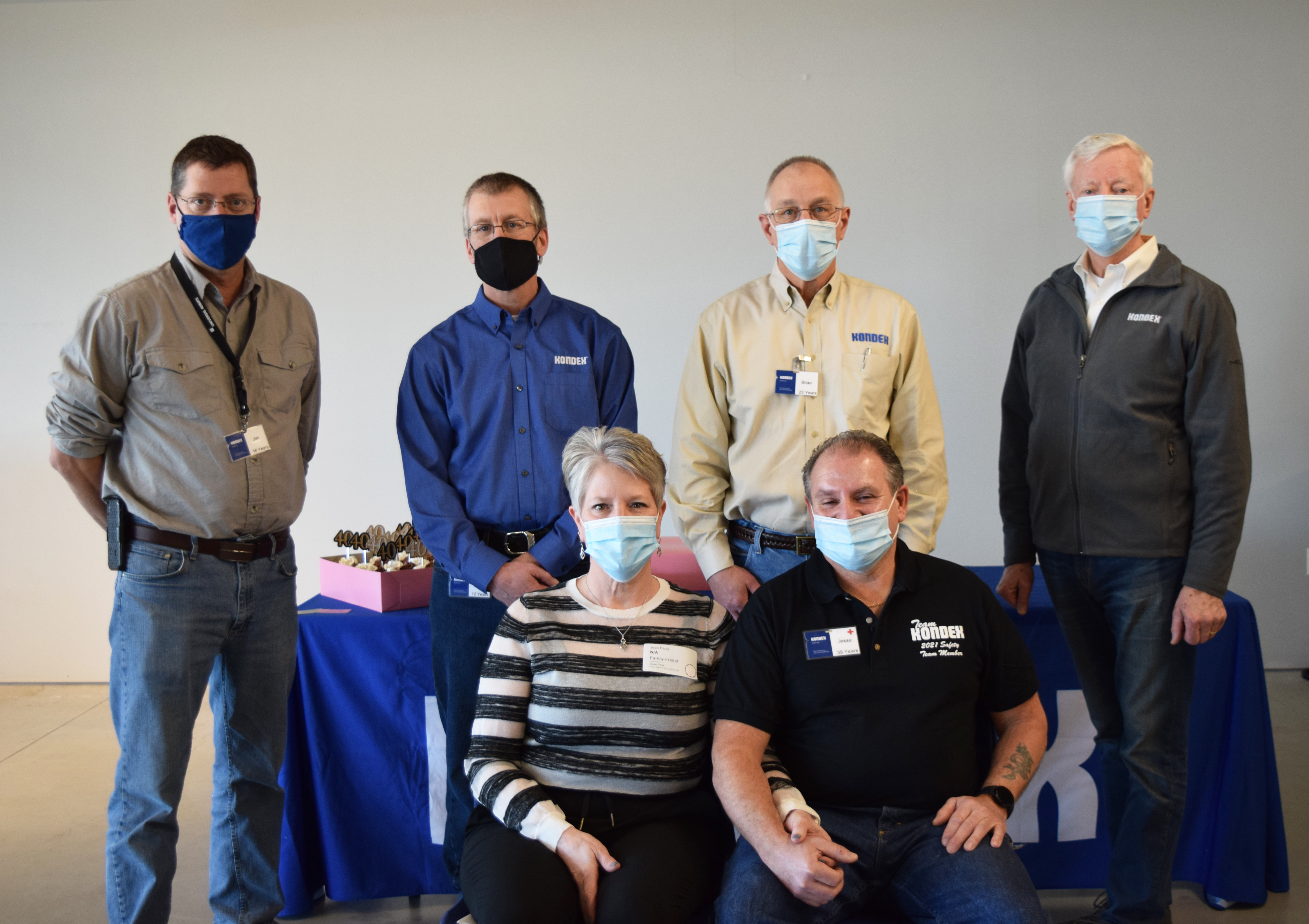 Pauly seated with his wife Jean, and joined by members of Kondex management on the day of his 40th anniversary
Kondex has changed significantly in Pauly's tenure. It grew from 21 plant associates in 1981 to approximately 250 total employees today. A new, modern facility was constructed in 2007 and expanded in 2012, and many manual processes of the past have been streamlined or completely automated.
While there are stark differences between its early days and today, Pauly pointed out how Kondex values have remained true to its early days. "I was given the opportunity to become an apprentice for an industrial electrician journeyman," he said. "Continued education and individual career advancement are still encouraged today."
Kondex also continues to celebrate its successes. "The kickoff parties in our early days, as well as anniversary events at EAA and Lambeau Field are some of my most memorable experiences at Kondex," Pauly noted. "Moving all the equipment from the old building to our current facility was also a significant milestone in my career."

Pauly enjoying the 1996 Kondex kickoff party, including dancing to Twist and Shout (image 1 & 2), as well as he and wife Jean at the 1999 (image 3) and 2004 kickoff parties (image 4)
When asked what he enjoys most about working at Kondex, Pauly spoke to its values. "The cultures that have formed and built this company are truly incredible, as is the freedom to work with and teach people about the company and its equipment," he said. "There are many mentors who have taught me a lot over the years, which is something I enjoy paying forward."
"Jesse is undoubtedly a critical member of the Kondex team – both from the standpoint of his 40 years of experience, but more importantly his unwavering dedication to Kondex," commented Kondex Manager of Manufacturing Engineering Jim Bernhardt. "I, along with many other people at Kondex, depend on Jesse's experience to ensure all the production equipment and building systems are maintained appropriately to ensure customer satisfaction. Jesse always keeps a calm approach to dealing with arguably a very challenging role. Thank you very much Jesse for your never-ending dedication to Kondex!"