On April 19, 2022, Kondex retiree Neal Stoffel accepted the 2021 Career Achievement Award from the Wisconsin Section of the American Society of Agricultural and Biological Engineers (ASABE). While he was named winner of this award in March 2021, the April 2022 section meeting was the first in-person event held since. This award is annually given to one good-standing ASABE Wisconsin Section member who has made outstanding contributions to agricultural and biological engineering through their work in research, education, design, and/or extension.
"…Neal has given back to the industry in so many ways. His commitment and efforts in supporting ASABE are some of his greatest contributions. His leadership in the organization spans a long list of committee, local chapter, and national roles," wrote Kondex President Keith Johnson in his January 2021 nomination letter to ASABE. "His contributions on standards committees have set the industry bar for safety and testing of critical equipment and components, and his mentorship of industry engineers through ASABE activities has secured a great future for our industry and its customers…"
Neal has served on numerous ASABE committees throughout his career, both on the national and state level. He's authored multiple publications on disc mower knives, and is listed on 11 Kondex patents.
Kondex Senior Application Engineer Andy Theisen, a past ASABE Wisconsin Section Chair, also submitted a nomination letter for Neal to receive this award. He wrote, "…For much of the industry, Neal Stoffel is Kondex. Over the span of his 46 years with the Company, Neal has worked effortlessly to create innovation in the cutting parts sector. Working for a parts supplier, much of Neal's work has been hidden from the public view. However, within the engineering teams of Kondex customers, Neal's name is rightly recognized as a trusted advisor and industry expert."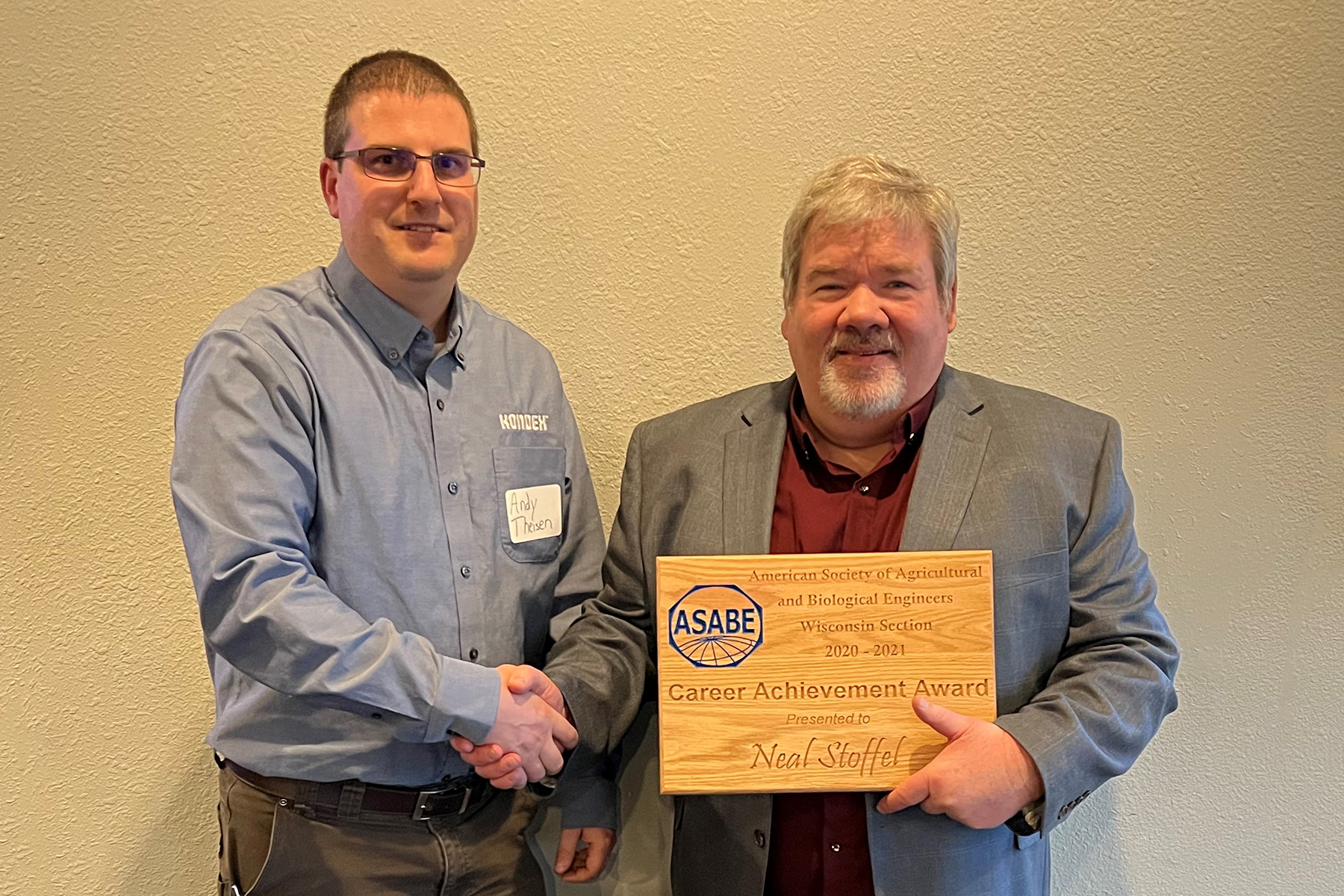 Andy Theisen (left) shakes hands with Neal Stoffel (right) holding his ASABE award